Cloud Explainer Animation
Colt commissioned us to create an animation to promote their Cloud service offering. There was a lot of information to pack into one video so one of our main tasks was to simplify their complex offering to create a clear script with a targeted message.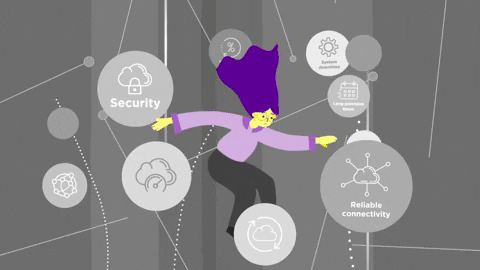 We created this animation explainer for Colt using 2D flat design principals to conceptualise a character who finds herself in a tricky situation. We aligned her predicament with those of the typical Colt buyer persona: a procurement or IT manager who is overwhelmed with the plethora of choices available. We wrote the script to include the problem, but then moved swiftly onto the solution: Colt's cloud services.
We made sure the brand is evident from the word go and throughout the production. From the colours used to the iconography, everything was created using Colt's brand guidelines as a reference point. This ensures that viewers who don't make it as far as the Colt logo, will still become familiar with the brand and associate it with high-quality, clear communication.
The client actually launched a brand refresh as we were finalising the animation but we were able to move quickly and adopted the new colour scheme, logo and end frame into the video.
Colt are proud of their diverse workforce and we wanted to reflect that in the animation by showing a range of different people using their services.
Sound design was applied to bring the animation to life.
Primary goals for the animation are market awareness and lead generation.
The video is informative but fun to watch and aligned with the needs of the buyer persona, making it an effective piece of marketing collateral.
A cutdown of 30 seconds long was created for social media advertising.
We held weekly calls with our client to keep them informed at every step of the way and an end to end gantt chart tracked milestone completion so we could all see what stage the production was at. This ensured we completed the video on time and to budget, despite a multiple stakeholder sign off process.
If you have any questions or are curious about how animation could help your organisation, please feel free to contact our Animation Producer Hannah on 

hello@boldcontentvideo.com

 – we love to chat!
We're great listeners, so why not have a chat?
Please follow and like us: